Evenings at Camping Ametza
The clientele of Domaine Séres 4 stars near the most beautiful sandy beach on the Aquitaine coast, is invited to attend the shows and parties organized under the pergola of the Camping Ametza entertainment area in a lively fun atmosphere.

The shows programme of Camping Ametza, 4 stars, heated pool, near the sea, in Hendaye-Plage, is presented on Sundays during the welcome drinks and displayed on the Domaine grounds.

The choice of parties is a subject to which we pay special attention: we want to share the richness of the Basque Country, its gastronomy. Each of them transmits in its own way its culture, traditions and colours :
popular dances from the Basque provinces (Zuberoa, Navarra, Gipuzkoa, Biscay, Alaba, Lower Navarre), choirs, bands and Basque rural sports that highlight the strength and dexterity of the kirolaris.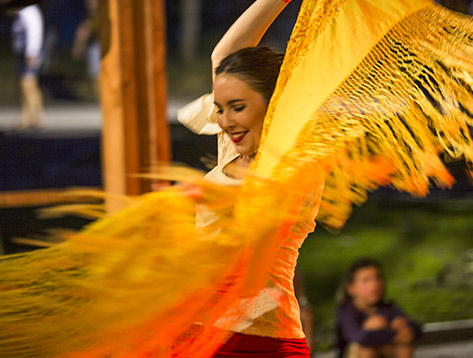 July – August
Music, culture, dance, games…
You will be captivated by the diversity of the proposed parties: Enjoy flamenco and its dancers in colourful and fluttering dresses, with their majestic hair ornaments.
Go dancing in the '80s show with its performers in daring outfits, humming French songs and taking part in karaoke and the musical contest with the youngest.
Have your hair done by our poet of "mysterious hairstyles": harmonious, exuberant and theatrical.

La Table d'Ametza offers you a sample of its delicious dishes during the welcome drinks.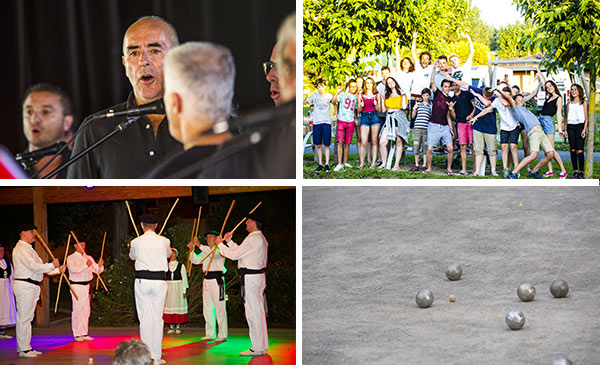 In all Basque Country festivals, cooking competitions are organized among towns, neighborhoods and friends, and this is how the famous "pintxos or tapas", traditional miniature dishes, emerged.
La Table d'Ametza, the restaurant of 4 star Camping Ametza, offers "gastronomic parties" in harmony with the shows that are organized.

After the many activities of the day, a beautiful getaway with "A day with Ametza", the activities with the Ametza Pass or at the campsite, or simply after a day of rest in the heated pool of Camping Ametza, enjoy a peaceful time with your family under the pergola of the entertainment space at a party with tapas, paella, squid, axoa (veal casserole) or line-caught hake.