In 1950 Léon and Michel Alzaté founded Camping Séres and letting themselves be carried away by the enthusiasm they also opened Camping Ametza … It was the beginning of a beautiful family story. The 4 star campsite Domaine Séres is a privileged holiday resort thanks to its residential mobile home park, trees and flowers. It is located in Hendaye-Plage, in the Basque Country, close to Spain and it is a relaxing and welcoming place. The situation of Domaine Séres is exceptional. It is located a few steps from the Abbadia Castle, a neo-Gothic building from the 19th century owned by the Conservatoire du Littoral, and its Domaine, a protected natural estate with views of the ocean and the Twin Rocks. Domaine Serés has unique charms, such as the coastal path, a pedestrian trail that stretches along the corniche with spectacular views, the circuit of the Vélodyssée, a beautiful and sunny greenway, its proximity to Spain and the town of Hondarribia, as well as its direct access to the most beautiful fine sandy beach on the Atlantic coast.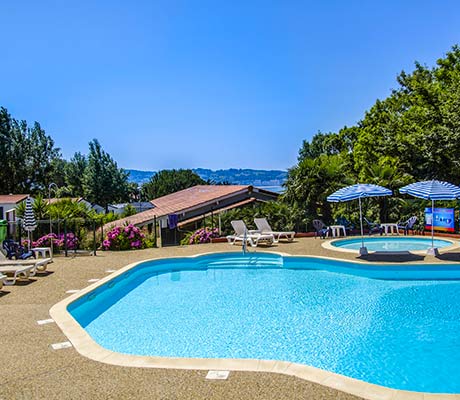 After crossing the entrance barrier of Domaine Séres, you will discover a natural landscape of 2 hectares shaded by poplars and the pedestrian and flowery trails that cross the Domaine from one end to the other. Cars are not allowed around the mobile homes and vehicles remain parked inside the campsite along the path of henna bushes that delimit Domaine Séres 4 stars. Children can play their games freely and without danger. Domaine Séres is characterized by its wide opening period: from the first school holidays in February to the end of the year holidays. Let yourself be seduced! Become the owner of a second high-end home in Domaine Séres in Hendaye-Plage, you will love the camping atmosphere and the outdoor life in the different seasons while you enjoy the advantages of a 4 star campsite. In high season, the owners put their mobile homes up for rent taking into account the conditions and rules established by the Management. 4 star Domaine Séres clientele is invited to the welcome drinks organized by Camping Ametza and prepared by La Table d'Ametza. The entertainment team presents its weekly programme. Festivals of pure Basque tradition, dance shows and songs that take place in Camping Ametza entertainment area and which are also advertised at Camping Séres.
Book your holiday at Domaine Séres 4 stars in Hendaye-Plage, near the most beautiful fine sandy beach on the Aquitaine coast in the Basque Country.